News
What would Formula 1 mean without Lewis Hamilton?
The longer the dethroned Formula 1 world champion is silent about his future, the hotter the speculation about Lewis Hamilton. Will the record champion actually resign?
A Formula 1 without its most dazzling personality in the last 15 years would mean a huge cut, that's for sure. The biggest loser would soon be clear: motorsport!
In addition, a Hamilton resignation would have a whole range of consequences that would be tantamount to a real earthquake in the premier class of motorsport.
Resignation Thesis I: Without Hamilton, Formula 1 will lack its best driver
Lewis Hamilton has been driving in Formula 1 since 2007. The Briton has been fighting for the world championship since his debut season. As early as 2007 he clinched his first four victories, and in his first nine races he finished on the podium every time. A vertical start that no one before and after him has managed.
Lewis Hamilton has been competing for victories in Formula 1 since his first hour
In addition to the privilege of driving in the top cars in the F1 circus right from the start – 2007 to 2012 in the McLaren, since 2013 in the Mercedes – Hamilton brings with him outstanding driving skills that set him apart from almost all other drivers.
The 36-year-old hardly ever makes careless mistakes or avoidable accidents. Hamilton is driving consistency at the highest level personified. It brings together all the requirements of the respective weekend on the most diverse racetracks in the world.
This level of reliability is unmatched in Formula 1. None of the current top drivers in the field comes close to this overall package. No Max Verstappen, no Sebastian Vettel, no Fernando Alonso, no Charles Leclerc.
Two failures in the last five and a half years in over 100 races prove this thesis that without Hamilton not only the best but also the most consistent driver of the last 15 years would be missing.
Resignation Thesis II: Over the calm at Mercedes
Since the end of Nico Rosberg's career after the 2016 world championship season, the balance of power at Mercedes has been clearly distributed. Lewis Hamilton is the star of the team and a crystal clear World Championship driver, while team-mate Valtteri Bottas acts as a wingman and keeps his feet still on the piste so as not to jeopardize the team's success.
Should the cockpit suddenly become free next to the new regular driver George Russell, things would get down to business with the series world champion of recent years – one way or another.
Regardless of whether Mercedes wants to fill the gap with another up-and-coming driver from its own stable or with an experienced driver: the German-British team will have a bang because both drivers want and have to assert themselves within the team.
In wild speculation, a deal with Aston Martin driver Sebastian Vettel or a spectacular return campaign by Valtteri Bottas were brought into play.
Resignation Thesis III: The greatest glamor factor would go with Hamilton
Lewis Hamilton polarizes the entire motorsport world. This has been the case for years – at least since his first world title and the beginning of Mercedes dominance in 2014.
He is celebrated for his sporting excellence, for his socio-political statements and for his own way of presenting himself in a fashionably unusual and flashy way on the routes of this world and in social media.
He also sees himself exposed to hostilities to the same extent. Hamilton is sometimes considered unapproachable, extravagant and aloof. No matter how you feel about what is undoubtedly the most successful Formula 1 driver of the last few decades: Hamilton has been giving the premier class a glamor factor for 15 years that has probably never existed before to this extent.
He is considered the only superstar in the entire field of drivers who is equally popular all over the world. A resignation would also mean a loss of image for the entire Formula 1.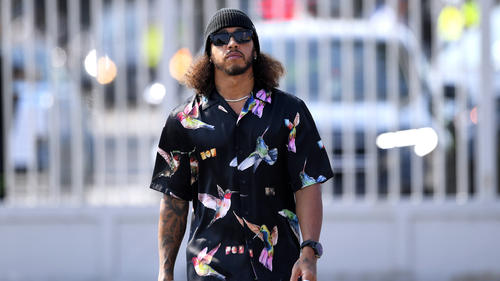 Whole books could be filled with Hamilton's flashy outfits
Resignation Thesis IV: Epochal record hunt would be over
There is almost no major record left in Formula 1 that Lewis Hamilton hasn't broken. Most race victories, most podium places, most pole positions: the superstar, who was recently crowned "Sir", is ahead in all respects and has topped Michael Schumacher's memorable record-breaking career one more time.
When it comes to the number of world championship titles, Hamilton and Schumi are still tied, it's seven to seven. It seems almost inconceivable that Hamilton, in his prime as a racing driver, will now stop in his mid-30s and still want to grab this historic record.
Only with the eighth driver's title would Hamilton have improved the last big F1 record. A sudden withdrawal despite a contract with Mercedes that runs until 2023 would mean nothing less than the abrupt end of this record hunt.
Hamilton career end in 2022 almost unimaginable
For years, Lewis Hamilton has been an absolute expert in staging and staging himself in order to generate the greatest attention. At the moment, the best way he can do that is by simply not saying anything and letting the motorsport world speculate about his future.
Last but not least, the new FIA President Mohammed Ben Sulayem was "very confident that he will also be at the start in 2022. It is a fundamental part of our sport."
Perhaps the best racing driver of all time will not want to say goodbye to the big stage of world sport as a defeated champion – and certainly not to forego the 80 million euros that the two-year contract with Mercedes is guaranteed to bring him in. If they did, an entire sport would lose its greatest attraction.
Mats Yannick Roth
.